Video Production and Photography
Video Production - We Don't Just Record Your Show!
The Stage Dynamics video production team, specialises in recording performance videography.

We don't just show up the day to record your show, but we work as part of your team—with the goal of making sure everyone shines.

With our advanced technology, 4K high definition video and audio, multiple cameras, strategic placement, and post-production editing—we deliver a performance video that is the next best thing to watching the show live!

We also provide post-production editing, and blue ray and DVD distribution.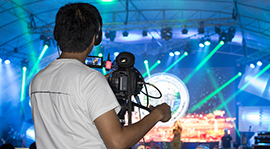 Photography - For Performance Posters, Fliers, & Live Performance Shots
Stage Dynamics photographers specialize in performance photography. Our photographers take the time to learn the vibe of your show, and deliver images that will speak to your target audience.

While you won't need us on set daily, we provide the as-needed HD shots for posters, fliers, and all online and offline marketing.

We specialise in low-lighting photography, and deliver candid and action shots of your stage during the production.

Your images won't just be used for marketing, but to commemorate your play, musical, production, or show!